MuseumFutures Steering Committee
Flower Manase
is the Curator of History at the National Museum and House of Culture, Dar es Salaam. Ms. Manase holds a bachelor's degree in History and Archaeology and Msc. in Natural resources assessment and management from the University of Dar es Salaam
...
. Ms. Manase has worked in several projects and curated national and international exhibitions projects including the "ReMIX": "Afrika in Translation" in Tanzania by the University of Bayreuth and "the roads to independence; the African liberation heritage"; the EU/UNESCO funded project. Ms. Manase is currently involved in provenance research of museum collections from the colonial contexts (in Tanzania and Berlin) under the collaboration of the National Museum of Tanzania, the University of Dar es Salaam and the Ethnological Museum of Berlin (SPK). The project is funded by the Gerda Henkel Foundation.
Rainer Hauswirth
After working for the Goethe-Institut in Rome, Tel-Aviv, Porto,Stockholm and Munich, Rainer Hauswirth has been director of the Goethe-Institut Cote d'Ivoire since 2020. Prior to this, he was director of the visual arts department
...
at the Goethe-Institut head office from 2015 to 2019 and was as such involved in several projects and conferences on the topics of restitution, the future of museums and colonial heritage as well as in the international research and exhibition project Bauhaus Imaginista, which took place on the occasion of the Bauhaus founding anniversary. He lives in Abidjan.

Asma Diakite
heads the cultural program department of the Goethe-Institute for Sub-Saharan Africa. After studying theater, film and media studies, philosophy and cultural anthropology in Frankfurt and Cairo, she founded the artist network 'Revolution Divine' and did her doctorate on the concept of
...
exuberance in the performing arts. With her team in Johannesburg she conceptualizes and produces cultural events, creates platforms for discourse and cultural exchange and supports the South African art scene. She is currently working among other things on a discourse series titled Power Talks. Power Talks seeks a critical reflection on the role of European cultural institutions in Africa.
Molemo Moiloa
lives and works in Johannesburg and has worked in various capacities at the intersection of creative practice and community organizing. Molemo's academic work has focused on the political subjectivities of South African youth. She is one half of the artist collaborative MADEYOULOOK
...
, who explore everyday popular imaginaries and their modalities for knowledge production. She also currently leads research at Andani Africa, with a focus on open restitution debates. She also works with Arts Collaboratory, the Market Photo Workshop, and the School of Arts at the University of the Witwatersrand (Wits), among others. MADEYOULOOK was nominated for the Vera List Center Prize for Art and Politics 2016/17 at the New School, New York. Molemo was also a Chevening Clore Fellow 2016/17, and winner of a Vita Basadi Award for 2017. Molemo is a current fellow for the AfricaNoFilter Academic Fellowship 2021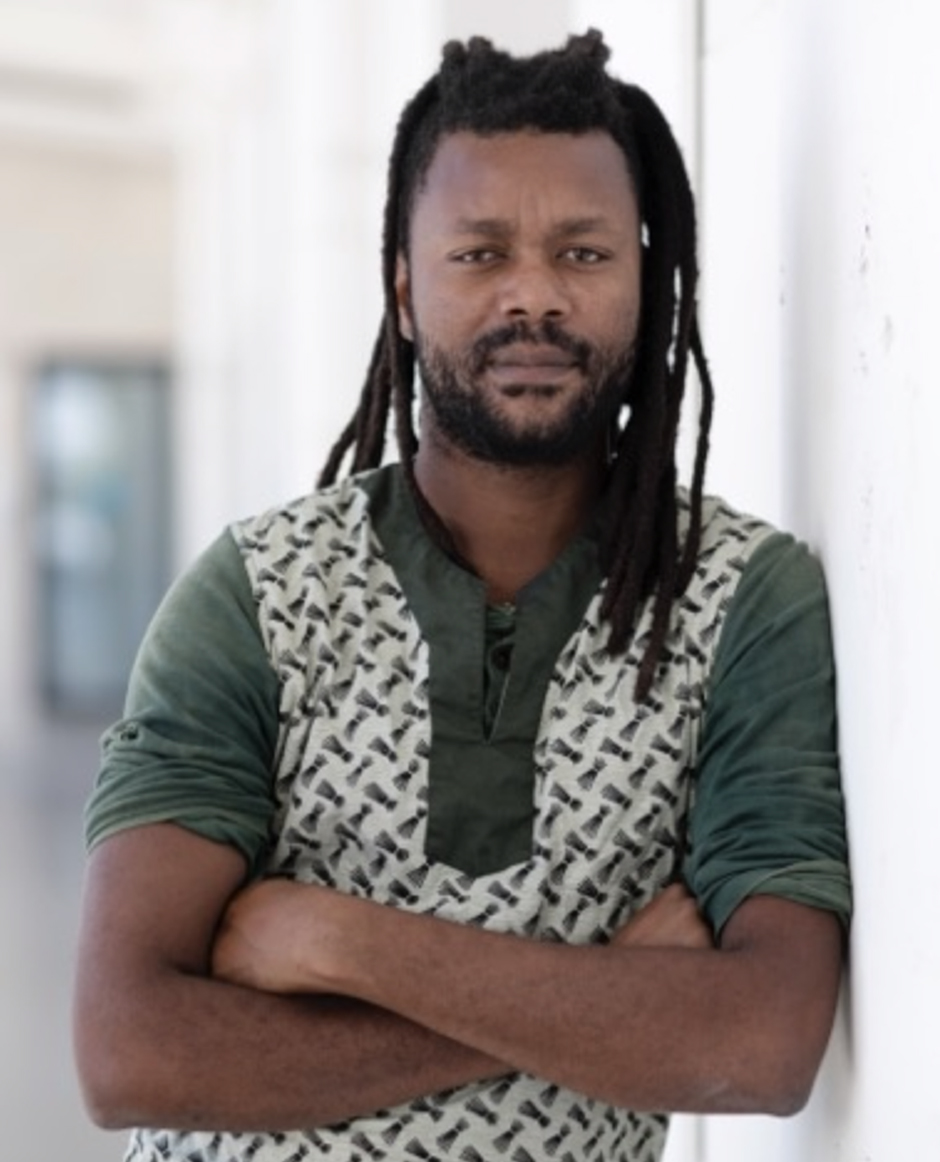 Nashilongweshipwe Mushaandja
is a performer, educator and writer with practice and research interests in the role of embodied and spatial archives in movement formation. Mushaandja is also a PhD artist at the Centre for Theatre, Dance and Performance Studies at the University of Cape Town
...
studying Queer Praxis in Oudano Archives. His recent performance Dance of the Rubber Tree is a cross-disciplinary critical queer intervention in museums, theatre and archives in Germany, Switzerland, South Africa, Cameroon and Namibia. He is also involved in curative projects from time to time, such as the John Muafangejo Season (2016/2017), Operation Odalate Naiteke (2018/2020) and Owela Festival (2019).
Nadine Siegert
is the director of the Goethe-Institut Nigeria since 2021 and worked as Head of Culture and Development at the Goethe-Institut South Africa (2019-2021). Before, she was the Deputy Director of Iwalewahaus, University of Bayreuth (Germany). She is a Research Associate and 2018 Writer
...
in Residence with the NRF/DST SARChI research programme in Geopolitics and the Arts of Africa, Fine Art Department, Rhodes University, South Africa. With a focus on modern and contemporary arts of the Global South, she also runs the publishing house iwalewabooks. She was a Brooks International Fellow at Tate Modern / Delfina Foundation and Curator in Residence at Vila Sul, Goethe-Institute in Salvador de Bahia and worked on a number of exhibitions and publications such as FAVT: Future Africa Visions in Time (2016-2019), Mashup (2015-2017) and GhostBusters (2012/2013). In 2016, she published her PhD (Re)mapping Luanda on nostalgic and utopian aesthetic strategies in contemporary art in Angola (LIT).
MuseumFutures Project Office & Partners
Sophia Olivia Sanan
(project manager) obtained her masters in Sociology in Germany, North India and the University of Cape Town in South Africa, where she is currently a Sociology PhD candidate. Her published research has focused on art and design education for social justice, race and institutional transformation
...
and cultural policy development in Africa. Her PhD research investigates politics of identity, representation and heritage in the anthropocene through a study of parts of the African art collection at the Iziko South African National Gallery. Sophia has worked as an educator, research consultant, and curriculum developer in arts, visual culture, and education, both internationally and in South Africa, for the last 12 years. She has taught and developed courses on visual culture, arts education, globalization, and the sociology of art at undergraduate and master's levels. She has worked on cultural policy consultancies, cultural entrepreneurship training and arts related research projects across Africa (for UNESCO, HIVOS, Arterial Network, SACO).


Patrick Mudekereza
(workshop facilitator) is a writer, educator and the director of the Waza Art Centre in Lumumbashi
@centredartwaza
. He has initiated many dynamic and robust projects and debates about art, mobility, education, public life, restitution and heritage on the African continent.


Chao Tayiana Maina
(workshop facilitator) is the founder of African Digital Heritage and co-founder at the Museum of British Colonialism where she leads digital engagement. She has an MSc. International Heritage Visualisation and worked for the Science Museum Group as software developer for museum digital exhibits prior to founding the organisation.


dr. heeten bhagat
(LAB facilitator) was born in Zimbabwe. He performs across diverse terrains ranging from what is expected of him to what he doesn't understand – in this latter territory he is at his most productive. bhagat currently offers creative, strategic and manual-labour support to organisations and communities regionally, with verve and humility, equally.
Rebecca Corey
(curriculum advisor) is the Director of Nafasi Art Space, a centre for contemporary art in Dar es Salaam, Tanzania, which supports an artist collective, studio spaces, art workshops, artist residencies, exhibitions, and other public events, providing a meeting point for intensive dialogue between artists and the public.
...
She has curated numerous group and solo exhibitions in Tanzania and organizes regular participatory public art experiences, exchanges, and outreaches. As an artist, she has worked in installation, photography, writing, and film. Rebecca is also a co-founder and former director of the Tanzania Heritage Project, an initiative for cultural preservation that seeks to revitalize heritage music, especially through the digitization of reelto-reel archives. Rebecca was the Managing Director of Sauti za Busara festival in Zanzibar during 2012-14, and an advisor to Santuri Safari, an East African project that facilitates collaborations between traditional musicians and electronic music producers. She is the co-director and co-producer of a feature documentary film called 'Wahenga' (The Ancestors), which was supported by DOCUBOX East Africa and screened at Film Africa 2018, FESPACO 2019, and many other festivals around the world.
Tatiana Page
(curriculum advisor) is an independent thinker, influencer and pragmatist who applies her talents in the Human Capital (HC) areas of leadership development, change management and talent management. She has over 20 years' experience in the HC field in large organisations ranging from; ICT, banking, retail and petrochemical, and has worked
...
closely with senior and executive management teams on a variety of HC interventions. Tatiana is based in Johannesburg and holds an Honour's degree in Industrial Psychology from the University of Johannesburg. Tatiana is a practicing Coach registered with COMENSA. She is currently completing a Masters' of Management in Technology and Innovation at the Da Vinci Institute.
Abiti Abedo Nelson
(curriculum advisor) is the curator of ethnography and history at the Uganda Museum. He is also a PhD student of History at the University of Western Cape in Cape Town. His research engages with the history of ethnographic collections and exhibitions
...
while at the same time looking at the debates of the future of ethnographic museums. Abiti has implemented projects in northern Uganda by working with communities on preserving regional memories to promote peace and reconciliation. The result of this cooperation was an exhibition entitled the Road to Reconciliation. He also co-curated the jointly Milk exhibition project in Uganda and Switzerland. Abiti recently co-curated the exhibition project of 'Unseen Archive of Idi Amin' that opened at Uganda Museum 18th May 2019. Abiti contributed '100 Africa Story'. He is also involved in the debates of restitution in Africa.
Vumile Mavumengwana
(graphic designer) has been sharpening his skills and expertise in the Visual Communication industry for the last sixteen years - working on a wide range of brands and creative disciplines. He is an integrated conceptual Creative with a keen focus on Brand Design. Currently based in Johannesburg, he has worked for some of the country's top advertising agencies
...
. Vumile has been working as a Brand Designer and Creative Director at VM DSGN, his own company, for the last four years - specialising in Brand Identity, Packaging, Product Design and Content for Digital. He has won awards, published in local publications/digital blogs and commissioned by brands on design projects. In 2018 he had the honour of serving as a judge at Cannes for the Design Lions. In 2019 he was invited to Minsk, Belarus for the White Square Award Festival as part of the branding & design Jury. He is passionate about proudly South African work that pushes and reimagines what it means to be African today and into the future - creative work that is meaningful and strives to make a difference socially and culturally.


francis burger
(website designer, visual harvester and collaborator) is an artist and facilitator currently based in Johannesburg. Interested in co-creative learning and making, Francis works across media and processes from facilitation and youth empowerment to creative mapping, publication design, printmaking and pottery.
Mamadou Diallo
(interpretation and translation) is a Senegalese writer, a contributing editor of Cape Town Based Chimurenga Chronic and a PhD student in the department of Middle Eastern, South Asian and African Studies at Columbia University. His research focuses on the institutional and ideological
...
afterlives of colonialism in West Africa and straddles, methodologically, the disciplinary fields of political theory, postcolonial and conceptual history.